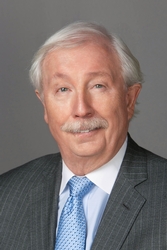 Francis J. Sullivan
Founding Partner - Yardley Office
Yardley, PA
Francis J. Sullivan is the Founding Partner of Hill Wallack LLP's Yardley, Pa., office and is a member of the firm's Management Committee. He is partner-in-charge of the Business & Commercial and Trusts & Estates practice groups.

Mr. Sullivan represents corporate entities and partnerships in a wide variety of business transactions and related litigation. Clients count on Mr. Sullivan to advise them on issues that arise during the entire life cycles of their businesses, from start-up and acquisition, to disposition and estate planning.

Mr. Sullivan's clients include family owned businesses and partnerships, as well as businesses in a number of industry sectors, such as financial services organizations and mortgage companies, automobile dealerships, construction and related trades, home heating fuel oil entities, professional firms (medical, legal and accounting), and publishing. He also represents individuals in commercial matters.

Mr. Sullivan is admitted to practice in the State Court of Pennsylvania. He earned his Law Degree and Master of Laws in Taxation, from Villanova University School of Law. Mr. Sullivan earned a Certificate in Estate Planning from the Graduate Tax Division of Temple University School of Law and obtained his B.A. from La Salle University.

Representative Matters

Negotiates and documents business entity sales and acquisitions, and advises on related real estate, tax and regulatory issues
Obtains structured financing to further clients' business needs, growth and development
Advises on business entity planning, organizing, restructuring and governance (including documenting relationships between and among business entities and their owners)
Negotiates, structures and drafts operating, partnership and shareholder agreements, agreements for retirement and buy-outs of partners and corporate owners, and assists with generational succession planning
Litigates commercial disputes, including shareholder and business "divorces," entity liquidations, and restrictive covenants and protection of intellectual property and trade secrets

Leadership

He remains very active in the legal profession, as well as in charitable and civic activities.

Member, Board of Directors, Central Bucks County Chamber of Commerce
Member, American Bar Association, the Pennsylvania Bar Association and the Bucks County Bar Association
Member, Inns of Court of Bucks County
Member, House of Delegates of the Pennsylvania Bar Association
Life Time Fellow, Pennsylvania Bar Foundation
Selected for inclusion in Pennsylvania Super Lawyers, 2005-2011, 2014-2018
Former Chapter 7 Bankruptcy Trustee, United States Bankruptcy Court for the Eastern District of Pennsylvania
Former Member, Hearing Committee, The Pennsylvania Disciplinary Board
Past President, Bucks County Bar Association
Treasurer and Past President, Charitable Foundation of the Bucks County Bar Association
Vice President, Past President, Family Service Association of Bucks County
Corporate Secretary, Board of Directors, Member of the Executive Committee, United Way of Bucks County
Member, Bucks County Council Executive Board, Boy Scouts of America

In addition, he is actively involved in alumni affairs of La Salle University and is a former member of the La Salle University Alumni Board of Directors.