Media
06/30/2017
Hill Wallack LLP Partner Receives Lower Bucks County Chamber of Commerce Mitchell-Connor Award
News Release
Yardley, PA June 30, 2017 --- Hill Wallack LLP partner Denise M. Bowman was presented with the Mitchell-Connor Award.
On June 8, 2017, the Lower Bucks County Chamber of Commerce presented Denise M. Bowman with the Mitchell-Connor Award at its Annual Meeting and Volunteer Recognition Breakfast. The Mitchell-Connor Award is the Chamber's most prestigious honor. The Award is presented to a current or past Board member who has exceeded his or her duties and responsibilities and has made significant and exceptional contributions to the Chamber's goals. This award has only been presented a few times to a very select group of individuals throughout the Chamber's history. Ms. Bowman was a Board member from July 2011 through June 2017. She served as Board Chair from 2014-2015 and as the Chamber's pro bono legal counsel for the 2012-2013 and 2016-2017 terms.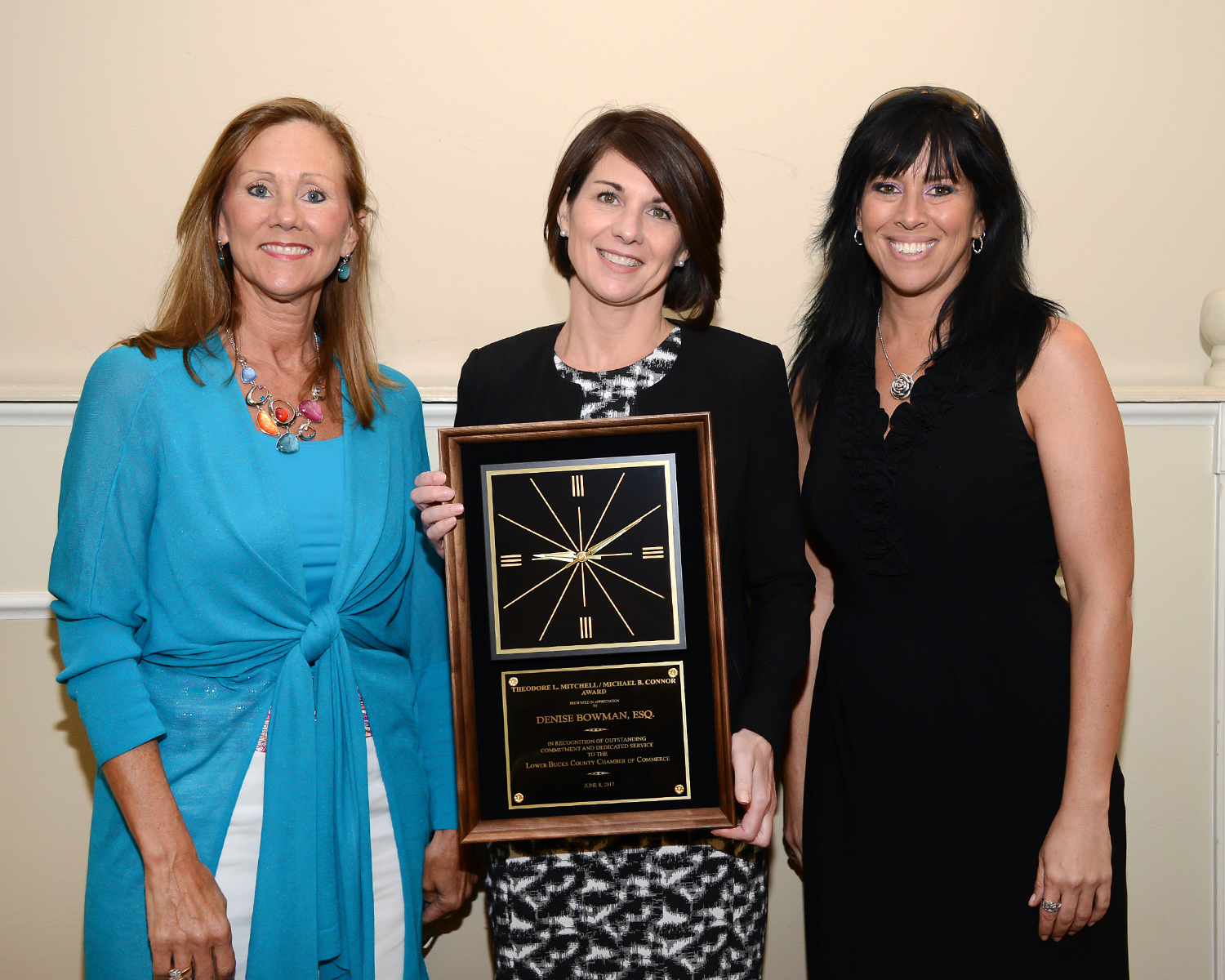 Pictured left to right: Suzy Buehler, Chair of the LBCCC Board, Denise M. Bowman, Esq., Hill Wallack LLP, Amy McKenna, President of the LBCCC.

About Hill Wallack LLP
Founded in 1978, Hill Wallack LLP is a leading full service law firm with offices in Princeton and Morristown, New Jersey and Yardley, Pennsylvania. Our regional strength places us in an ideal position in today's market. With nearly 70 lawyers, our mid-market size allows us to provide sophisticated, high-level service to clients in a cost-efficient, responsive manner. Our attorneys represent individual and entities in banking, community associations, creditors' rights, employment & labor law, family law, insurance, land use, litigation and real estate. For more information, please visit www.hillwallack.com.
###